YOUTH AND AFTER SCHOOL PROGRAMME OFFICE (WESTERN CAPE)
The Learning Trust partners with the After School Programme Office (under WC Department of Cultural Affairs and Sport) to facilitate learning and collaboration in the After School sector. We have seen evidence that demonstrates the impact of extending learning through After School interventions and want to spread good practice amongst practitioners and non-profit leaders. Thus, TLT and ASPO convene a Community of Practice (CoP) to strengthen the outcomes of the sector.
The CoP serves as a platform for:
Showcasing best practice models
Identifying opportunities for collaboration
Sharing and learning in order to strengthen programmes
Advocating for the After School sector
With every CoP meeting, there has been an accompanying Learning Brief that summarises the contributions of presenters and participants, as well as outlining specific lessons drawn from each engagement.
Navigate to our 'Learning Briefs' tab to explore and download the briefs.
To be added to the WC CoP database and receive quarterly email invites, contact us.
NASCEE: NATIONAL ASSOCIATION FOR SOCIAL CHANGE ENTITIES IN EDUCATION
The Learning Trust is a member of NASCEE – a body that was established in 2018 as a collaborative structure of Education Not-for-Profit Organisations. Our Executive Director sits on the Board of NASCEE.
The Association works to maximise the collective contribution of NPOs towards achieving transformational systemic education through the fulfilment of the national targets set out in the National Development Plan as well as the global targets set out in the United Nations' Sustainable Development Goals (SDGs).
The fourth UN Sustainable Development Goal has the most bearing on NASCEE's work, namely:
To ensure inclusive and equitable quality education and promote lifelong learning opportunities for all.
To learn more and become a member of NASCEE, visit their website.
Our network-building across the sector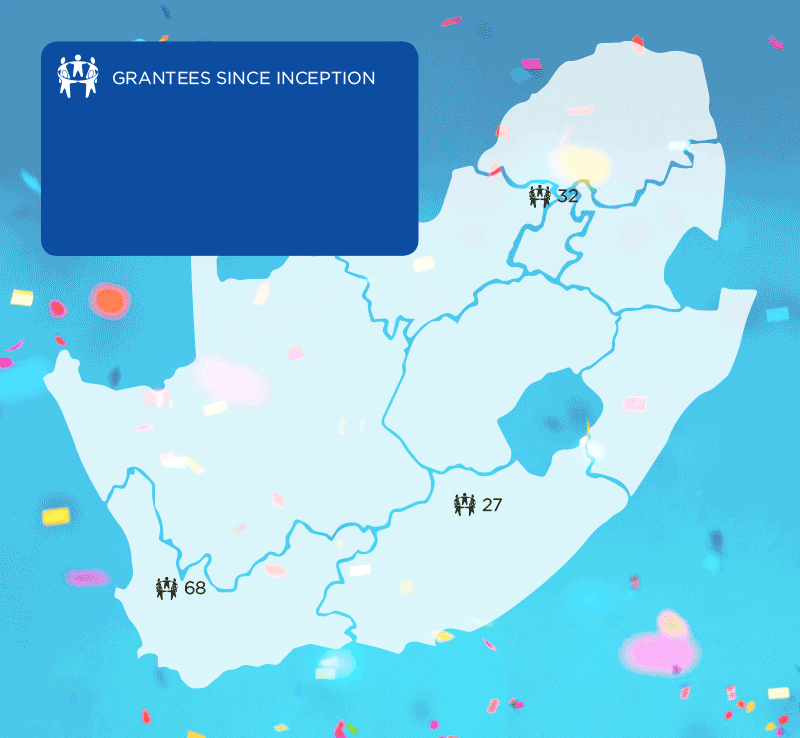 Our growth over the past decade has gone far beyond what we could have anticipated in our early years starting out in Cape Town. Beyond reaching the grantees we fund and partners we work with in our three active provinces, we have garnered a significant following and complimentary connections through our Communities of Practice, multi-partner collaboration projects, resource development/production initiatives, and social media platforms.
The map on the left gives a snapshot of this reach, and we only hope to grow even larger to ensure every child in South Africa has access to a quality After School programme.